Repair And Restore Your Fuel & Gas Dispenser Islands Foundations… No More Annual Or Semi-annual Painting Of Your Stores Gas Dispenser Islands And Components!
Designed Specifically For The Convenience Store, Gas And Petroleum Industries…
The PowerBlast gas island coating system delivers 21st-century resurfacing technology for a fraction of the cost of replacing an island and without the downtime usually associated with repairing, rebuilding, painting, coating your service stations, or c-stores gas pump islands concrete and metal foundations.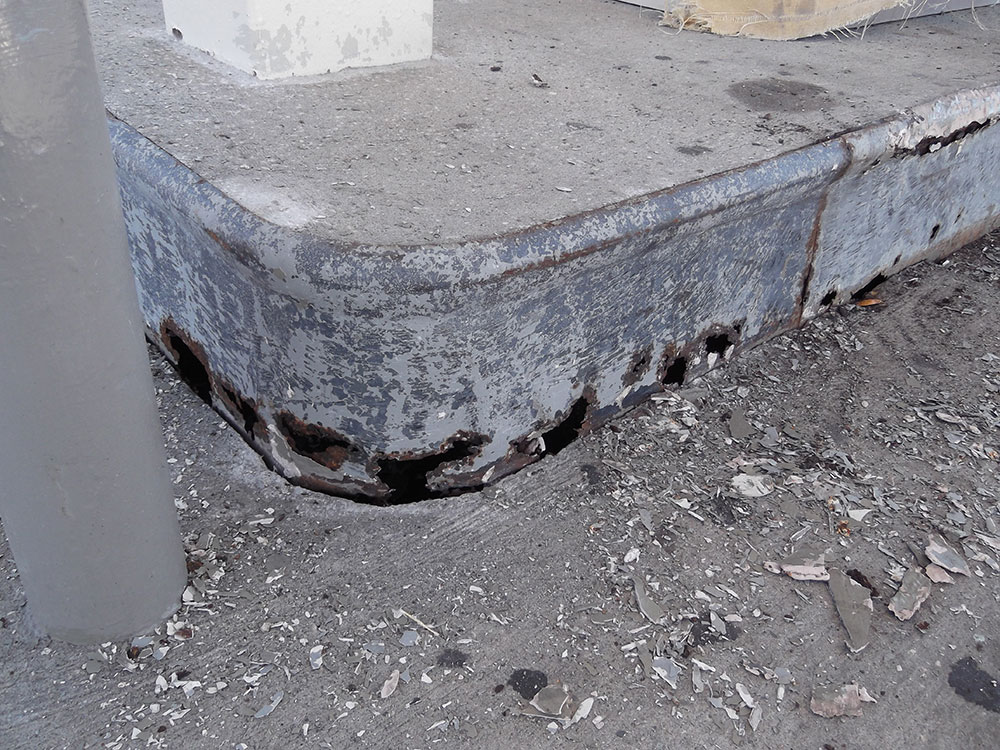 A Good Image Brings in More Customers and Increases Profits
A good image is a very important part of your station's retail landscape. A poor image is directly reflected in lower profits; conversely, a well-maintained image reflects higher profits. We will repair, refurbish and restore your gas dispenser islands, posts, curbs, bollards, columns, data huts, and gas canopies to look as good as new, making sure your customers always choose you over the competition.
Repair, Restore, Replace, Protect, Preserve, and Transform Your C-Store & Service Stations Gas Islands and Gas Canopy's
Gas Dispenser Islands Restored  Coated
Gas Canopy Columns Replacement & Repair
Gas Canopy Tops Repairs & Replacement
Gas Canopy Fascia Replacement
Gas Canopy Collector Boxes Replacement
Gas Canopy Gutters Replacement
Gas Canopy Branding
Building Roof Repair
Buildings – Data Huts Coated and or Repaired
Curbs Repaired and Coated
Guaranteed To Provide Protection From
Weather, Water, Salt, Ozone
Cement Cracking, Staining & Eroding
Metal Rusting & Corroding
Gas, Oil, Solvents & Chemicals
Mold, Mildew & Fungus
Regular Wear & Tear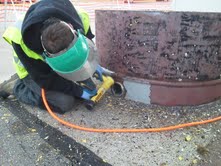 Military Grade – Petroleum Tough Gas Pump Island Restoration and Protection
The PowerBlast PolyGuard Thermoplastic process is more than paint, sealant, or coating.  It's a unique integrative system that begins with repairing or replacing the gas islands deteriorating metal and crumbling concrete; once we are finished with the refurbishing and restoration we apply the PolyGuard Thermoplastic at 2000 lbs per sq inch, and at 180 degrees, forming a monolithic protective skid-resistant seal, approximately 1/8-1/4′ thick in the strike zone.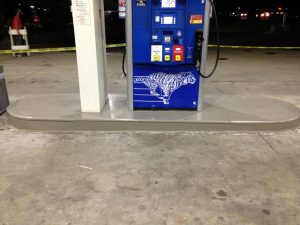 The Best Gas Pump Island Restoration and Coating Protection System Available to the Industry
Don't spend a fortune replacing your faded, chipped,  rusted, cracked, deteriorating gas and fuel islands! The PowerBlast PolyGuard Thermoplastic Repair, Refurbishing, Restoration, and Coating System is your most practical and inexpensive long-term solution!