Repair And Restore Your Gas Station Canopies
We repair, refurbish, rebuild, restore, rebrand, reimage paint, install lighting, and maintain gas station canopies for most of the major petroleum, big box retailers, and convenience stores 24 hrs., 7 days a week across the country throughout the lower 48 states USA.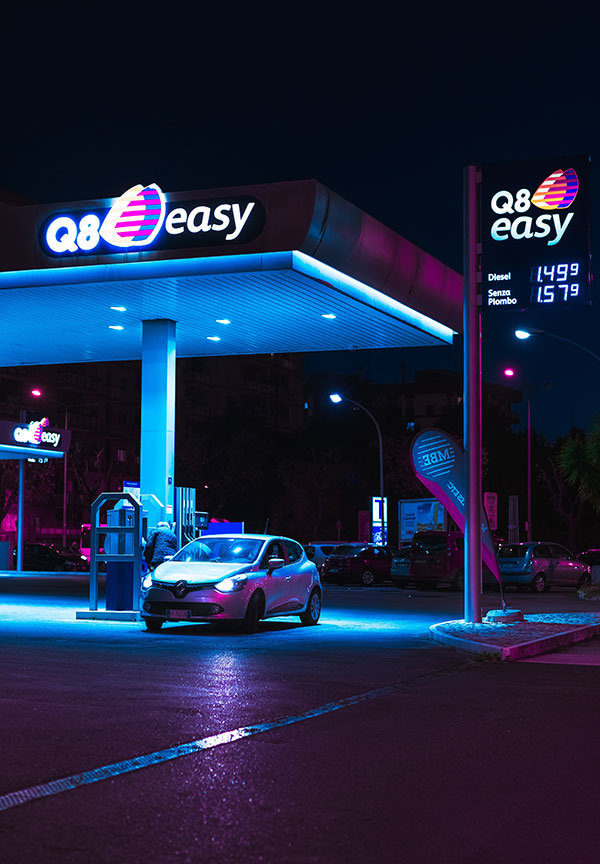 About Us: Gas Station Canopy Repair and Restoration Experts
At PowerBlastUSA, we take pride in our role as industry leaders in the restoration, rebuilding, remodeling, and repair of gas station canopies nationwide. Our commitment to excellence ensures that a qualified PowerBlastUSA representative is always ready to serve you.
We specialize in the comprehensive management of gas station canopy projects, covering repair, refurbishment, restoration, re-imaging, rebranding, painting, and maintenance. Our extensive portfolio includes partnerships with major players in the petroleum, big-box, and convenience store sectors across the entire Lower 48.
We understand the value of your time and revenue. That's why, in certain cases where necessary, we're willing to work overnight at stations that can't afford any business interruptions.
PowerBlastUSA is your ultimate destination for all your gas station canopy requirements. Whether you're embarking on a new venture and need to reimagine the canopy, including its facia, columns, and gas dispensers, or you require repair or replacement of deck pans, facia, gutters, collector boxes, or routine maintenance, we've got the expertise to assist you.
Your journey to a rejuvenated canopy begins here. Contact us today, and let's revitalize your gas station canopy, ensuring it stands out and operates at its best while saving you time and money.
Re-Decking Your Gas Station Canopy Will Save You Time And Money
For older gas station canopies and columns that leak, are made of rusting metal, and require constant repairs but cannot be closed in the meantime because of costs new canoy costs and lost revenue due to downtime, we offer a less expensive alternative solution.
Re-decking and possibly reinforcing your columns is a cheaper, quicker alternative to replacing the entire gas canopy.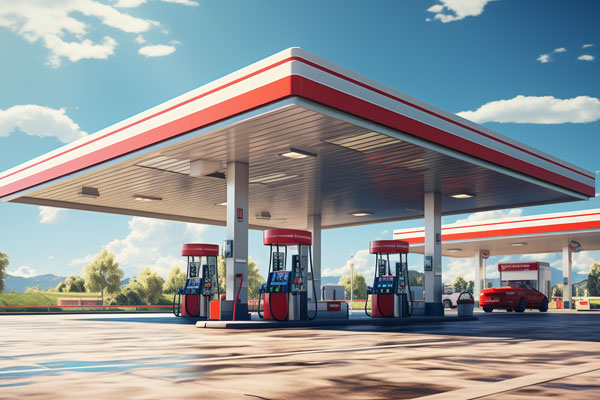 We Take Care of Everything
We will on-site manage the job, starting with coordinating new material procurement and removing all old damaged signage, facia, panels, gutters, leads, collector boxes, column wraps, and any other old, damaged, or rusted materials from your canopy's frame and columns. As part of bringing your canopy up to new standards, and before the new deck pans and accouterments are put on, we install new deck clips, tighten or replace all bolts, and recoat the structural steel.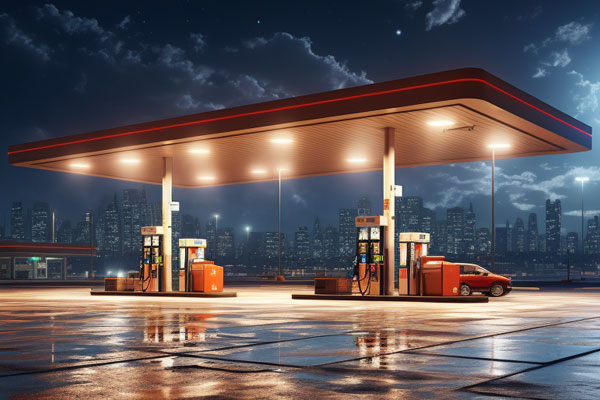 When your materials arrive, and our crews are on sight, we'll be the ones to represent yours and our interest, having managed every aspect of the project from engineering, permitting, and materials ordering to final sign-off by you. It typically takes only a few days up to a week to install the new canopy exterior onto the existing steel frame/structure, including decking, light electrical, gutters, downspouts, collector boxes, column wraps, fascia, and signage.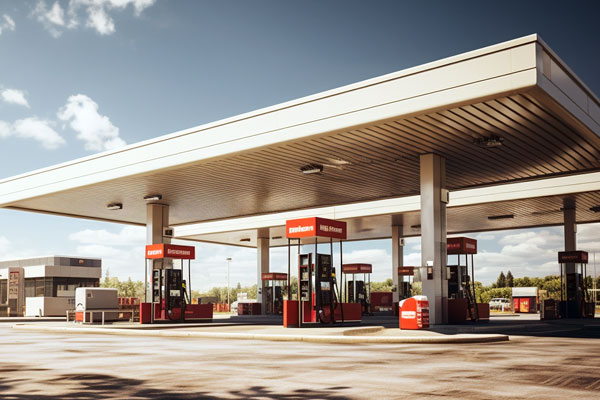 The Best Solution for Older Gas Stations
For older gas station canopies and columns that leak, are made of rusting metal, and require constant repairs but cannot be closed in the meantime because of costly up-front costs and lost revenue due to permitting issues/downtime, we offer a less expensive alternative solution.
Contact Sue Ellen at (480) 438.4839 or (260) 336.1048 and we'll get you back in business with a like-new canopy at the lowest costs possible in a few days with a beautiful canopy, you, your customers and community will appreciate.
Gas Station Canopy Restoration And Repair Will Increase In Store And Gas Sales
Compete With The Super Stations
In today's competitive business environment you cannot afford to have your gas pumps closed because of a damaged or unsafe canopy. Whether you canopy is suffering from old age or is failing because of weather or vehicle damage we can fix it, make it safe and have it looking like brand new in just a few days. All without interfering with your customers or causing you any downtime.
Gas Station Canopy Repair Services
Replace or Repair Canopy Deck Pan
Fascia Canopy Replacement
Install Deck Clips
Rusted Column Repair
Canopy Column Sleeves
Canopy Rust Repair
SealTight All Canopy Leaks
Canopy Gutter Repair/Replacement
Collector Box Repair/Replacement
Canopy Conduit Electrical Repair
Install & Seal Canopy LED's
Gas Station Canopy Repainting
Preventative Canopy Maintenance
Gas Station Canopy Extensions
Gas Station Canopy Construction
Full Gas Station Canopy Rebranding & Imaging
Canopy Replacement Panel Specifications
Repair And Restore Your Fuel & Gas Dispenser Island Foundations.
Don't Spend A Fortune Replacing Your Old Gas Station Canopy. We Can Repair, Rebuild and Remodel It For A Fraction Of The Cost Of A New One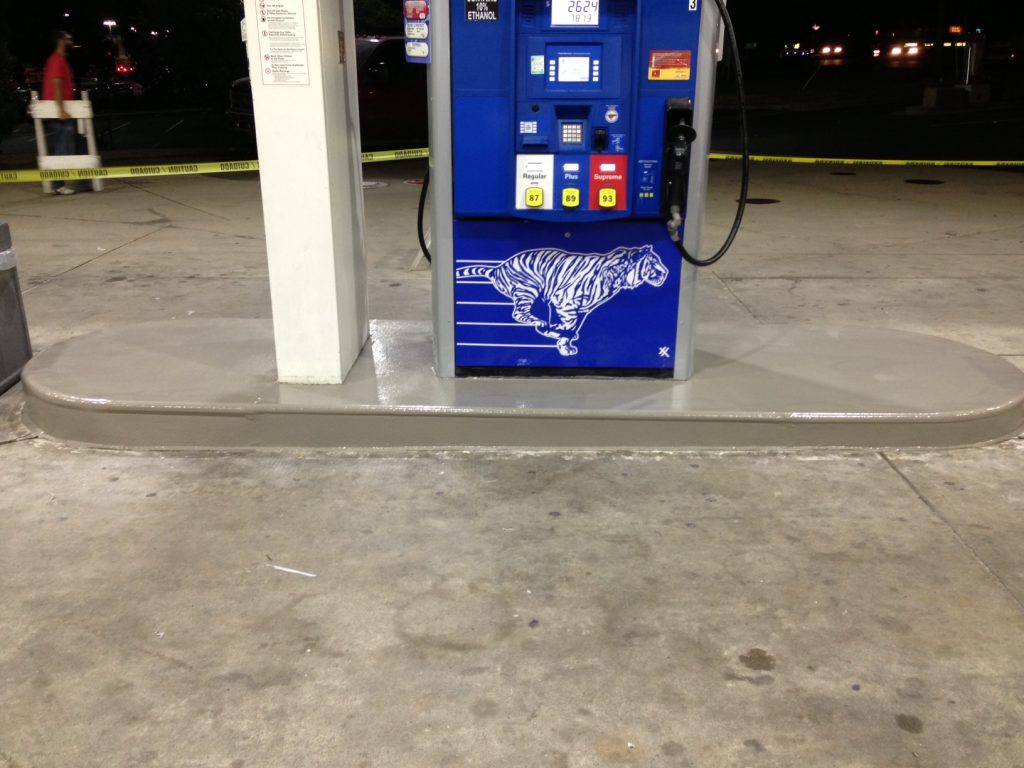 Products and Services Designed Specifically For The Convenience Store, Gas Station, Retail and Petroleum Industries
The PowerBlastUSA gas island coating system delivers 21st-century resurfacing technology for a fraction of the cost of replacing an island and without the downtime usually associated with repairing, rebuilding, painting, coating your service stations, or c-stores gas pump islands concrete and metal foundations.
A Good Image Brings in More Customers and Increases Profits
A good image is a very important part of your station's retail landscape. A poor image is directly reflected in lower profits; conversely, a well-maintained image reflects higher profits. We will repair, refurbish and restore your gas dispenser islands, posts, curbs, bollards, columns, data huts, and gas canopies to look as good as new, making sure your customers always choose you over the competition.