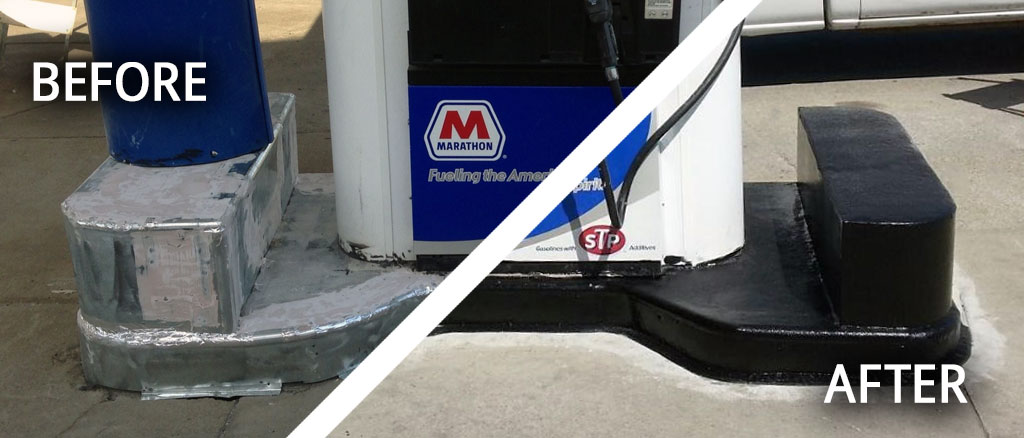 The PowerBlastUSA Gas Island Restoration Process
We will make your gas island look almost like new or better. The PowerBlastUSA installation process encompasses:
Removing old paints, coatings, rust, and corrosion from the gas islands.
Repair any damaged surfaces, including concrete and metal.
Sand and etch all concrete and metal surfaces on the gas islands before the PowerBlastusa PolyGuard Thermoplastic is applied.
Set PolyGuard Thermoplastic to 180 degrees Fahrenheit and apply it to the surfaces of the gas islands at 2000 lbs pressure per square inch.
Final coated sealing is a chemically bonded polyurethane, polyuria color station branded coating.
The PowerBlastUSA Gas Island Restoration Process Makes Your Islands Stronger Than New!
The PowerBlastUSA gas island restoration process does not require the removal of the gas pump, even if the concrete gas island foundation has deteriorated and has to be replaced.
Our concrete repair product includes industrial-grade resins, combined with our proprietary mix of aggregates making it 2 to 3 times stronger than standard concrete.
Our metalwork specialists will ensure your island forms are reinforced and restored to their proper dimensions and in good condition.
Our color application specialist, will mix and colorize the final aliphatic polyurea based resin coating, so the colors will match your branding requirements.
We Respect Your Business And Your Customers
You can depend on your PowerBlastUSA team to respect your business and your customers. We will minimize any impact the repairs, resurfacing and coating processes may have on your business operations.
We will make sure when we are working on your site we do our best not to impede your customers ability to purchase fuel as well as products from your store.